A Salary on the Move
We're looking for highly motivated and ambitious teachers - teachers with great potential and belief in their abilities. We offer a very competitive salary for competitive individuals.
Happy Teachers Teach Better
One of our goals at Lex Kim is to create a work environment that allows our teachers to teach as effectively as possible. This means making our teachers' lives as hassle-free as possible so they may focus on what's most important - the students. Our benefits package was put together with this thought in mind.
The teacher benefits package includes:
Fully furnished studio with washer
E-2 Visa sponsorship
50% subsidy of medical insurance cost
National pension plan
Paid vacation
Special holiday, Summer/Winter Intensive, and vacation bonuses
Meals provided by school
Overtime pay for classes taught over the 20 class/week maximum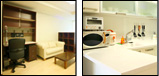 View photos of our fully furnished teacher studios.

Enjoy Seoul
We encourage our teachers to fully enjoy the cultural and social offerings of Seoul. Our academy is located in Kangnam district known for its flourishing commerce, good restaurants, and hotspots for young people. We are located close to the subway and a short walk from major shopping destinations. For more information about Seoul, check out the Lonely Planet guide online.